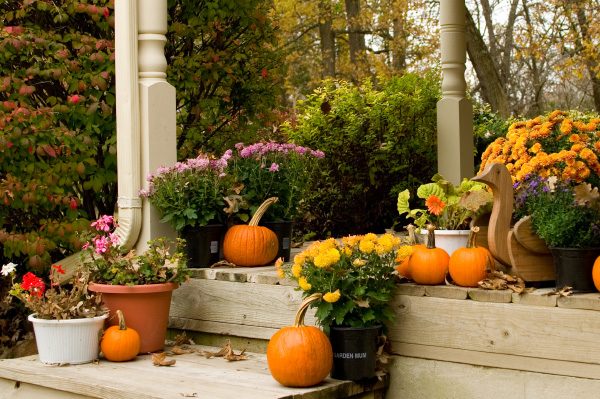 While most flowers tend to take a break from their showy blooms once the weather turns cool, mums continue to be a showstopper throughout fall. Learn why mums will be your new BFF this season.
Chrysanthemums, or mums for short, are a gardener's dream come true during autumn. Most gardeners mourn the close of summer and the loss of favorite blooms as the weather gets cold, but luckily mums are able to hold us over for a few more months by providing gardens a much needed color boost. While you can grow mums as an established perennial, they also thrive as annual plants making it a relatively affordable way to update your garden for the season.
Here are things to look for when planting mums:
Mass planting or let a few shine
The beauty about mums is that they look equally fab when planted together as a group or individually. If mass planting mums, stick to one color for the biggest impact. If planting them in several sections, plant each section in a different shade for a colorful arrangment.
When planting mums individually or in small clusters, try to use 2-3 colors that are repeated throughout the yard or patio to visually pull everything together.
Great for containers
Since mums are wonderful annuals to plant, they make fantastic choices for container gardens. Place one singular plant in a pot to let it stand out alone. If you're looking for a container garden with a variety of plants, choose a combination of the following: one mum, a trailing plant, fall grass, or ornamental kale. Adding a variety of plants will create texture and interest. You can also place small pumpkins or gourds in the planter for an extra element of decor.
Choosing colors
If planting a fall color palette to coordinate with other fall decor items like pumpkins, squash, or gourds, choose mums in orange, yellow, and burgundy hues.
If your garden is full of lush greenery or evergreens, consider planting colors that will contrast and pop against the green background. Colors like purples, reds, pinks, and whites look fantastic against a green plants.
Plan your planting schedule
Mums are relatively resistant to light frost, but you'll still want to find ones that work best for your area and weather to ensure the maximum amount of flowering time for fall.
---
Leave a Reply