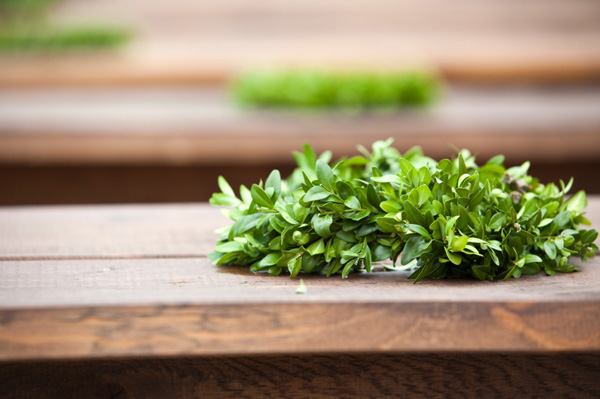 With the 2012 Summer Games going on in full force, we were curious about the history between the classic olive branch wreaths and Olympic athletes. 
Olive branches have been long regarded as a symbol of peace between nations so it's no surprise that there is some association between this peaceful plant and the Summer Games where countries join forces in the spirit of friendly competition. The history of crafting wreaths from wild olive branches for Olympic athletes seems to be as old as the ancient games themselves.
Back in the days before medals, olive wreaths, or kotinos in Greek, were given as prizes in the ancient Olympic games. Olive trees grew at Olympia and a wreath was crafted by intertwining the branches into the shape of either a circle or semi horseshoe shape.
When the Summer Games where held in Athens in 2004, each medal winner received an olive branch wreath as a nod to the ancient games reference (this was in addition to their metal bling of course).
Laurel wreaths (pictured above) are used as a substitution for olive branch wreaths in modern times. The wreaths are crafted from fragrant bay laurel leaves and come in the same circular and horseshoe shapes as the traditional wild olive tree version.  In ancient Greek mythology, Apollo is depicted wearing a laurel wreath. In many countries, the laurel wreath is also symbolic for higher eduction and are sometimes given to graduates earning a master's degree or doctorate.
As gardening enthusiasts, we like the idea of giving athletes a crown made from olive branches both for symbolic and historical reasons. While athletes are not currently receiving wreaths during the medal ceremonies at the 2012 London Summer Games, perhaps we'll see a comeback for this tradition at the 2016 Olympics in Rio de Janeiro.
---
Leave a Reply