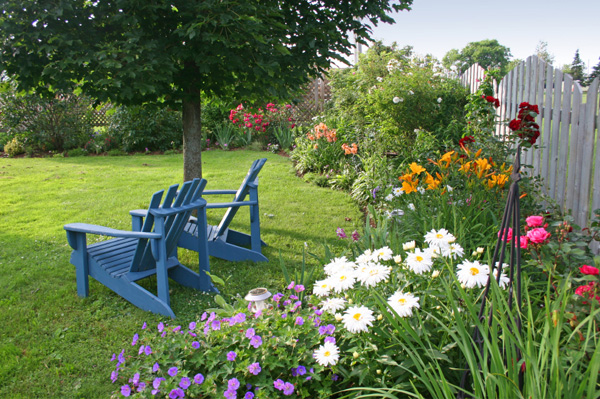 Decorating your backyard doesn't have to cost a ton of money. Follow these simple tips for getting the biggest bang for your buck when looking for backyard decor.
Before you spend a cent, first take note and decide how you'll be using the space. Do you want it to be party central and an entertaining hotspot for friends? Looking for someplace to unwind and relax with a glass of wine at the end of the day? Or are you low-maintenance all the way and just want something easy to maintain without a lot of fuss?
Making these decisions early on will save you from randomly buying a bulk supply of tiki torches only to later realize that they probably aren't a good idea for a small patio balcony. Doing just a little bit of planning early on can save you headaches down the road.
Affordable outdoor furniture
Buying brand new furniture can be pricey. Instead, scourge second-hand stores, yard sales, and of course, Craigslist to see if you can score a sweet deal. Often used furniture just needs a quick update with a can of spray paint and new cushions to make it good as new, but for only a fraction of the cost.
Light it up
Set the mood with outdoor lighting. Why splurge on wired spotlights when you can easily add a little ambiance by simply re-purposing your outdoor Christmas lights. String under the patio awning, under the table umbrella, or place in shrubs for easy DIY mood lighting.
Accessorize
Often you can find fun outdoor decor for a steal at budget home good stores and even dollar stores. Of course planting fresh flowers is an easy way to add color and interest to your space for not a lot of cash. Annual flowers are cheaper to buy upfront, but perennials will keep coming back every year — a worthy investment if you're a homeowner.
So what are you waiting for? Get creative with your backyard decor and do something fun with the money you saved (like throw a fabulous backyard bash for your friends).
---
1 Comment
---
Leave a Reply